Why We Love Colorbond®!
Australia can be the land of extremes as far as our weather is concerned. From extreme heat to hail, cyclonic winds and rain we have it all. So, when it comes to protecting your most valuable assets you need to make sure that your Shade Shed or Shelter has been manufactured using tried and true, top quality materials that are up to the challenge.
Here at QLD Shade Sheds we LOVE Colorbond®! Colorbond® steel is rigorously tested for durability, exposure and corrosion right across Australia in a variety of climates year round.
Manufactured in Australia to the highest of standards, its 5 layered protection is finished off with a baked-on top coat making it resistant to chipping and flaking and enabling it to retain its colour and finish for years to come. In recent CSIRO research and testing, Colorbond® was the best performing product for residential fencing in bushfire events due to its non-combustibility!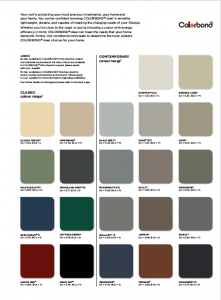 All our Shade Sheds and Shelters come with Colorbond® sheeting in a monoclad profile and include both side and end flashing to give your shelter a neat, finished look and, in your choice of over 20 colours to choose from they look great in any setting.
With the strength and durability of the Colorbond® sheeting, RHS galvanised steel frame and Easy Sleeve Connector system you can rest assured that your QLD Shade Shed or Shelter is all Australian Made and has been built to withstand the toughest of conditions, where ever you are.
Engineer designed and certified for your Wind Region and backed by our 10-year Structural Warranty, our Shade Sheds and Shelters offer you the perfect solution to affordable weather protection for just about any application from carports, caravan and boat shelters to livestock and horse shelters and commercial Shade Shelters.

If you are in the market for a new Shade Shed or Shade Shelter, give our friendly sales Team a call on 1300 QLD SHADE or complete our Free online quote request and see why QLD Shade Sheds is the PERFECT Solution to Affordable All-Weather Protection.